Peterborough and Kawartha Lakes by Electric Bicycle
May 10, 2019
To celebrate the opening of Pedego Kawartha Lakes' second location in Lindsay, Ontario, we've selected three great bike rides in the Peterborough region. All of these rides are sections of the TransCanada Trail ("The Great Trail"). For the 53.8km that The Great Trail runs east to west through the Kawarthas, cyclists enjoy a relatively flat, 3 metre wide, hard packed limestone trail with plenty of stops along the way. Pop into the new Pedego Kawartha Lakes store at 66 William Street in Lindsay, or the original store in Bobcaygeon, to rent an electric bike and see how much fun it is to ride these trails.
Note: we couldn't do this without help from dedicated Pedego owner Karen Lambert Fields. She read our last post on 10 best bike trails in Ontario and was quick to suggest some of her favourite Kawartha and Peterborough rides that didn't make it in. She's ridden all over, takes great photos, and shares her love of Pedego electric bikes. Thanks Karen!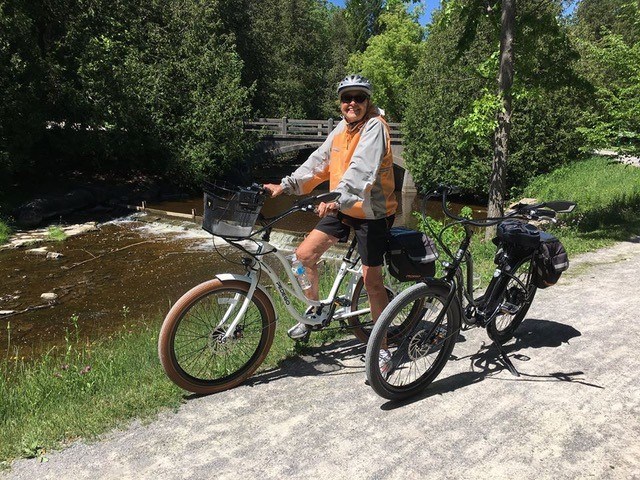 Rotary Greenway Trail
This lovely rail trail runs along the eastern bank of the Otanobee River from Peterborough to Lakefield, past Trent University. The southern half paved trail and the northern half limestone gravel. The full trail from Ashburnham Drive, Peterborough, through to Lakefield is about 20km. It was built by the Rotary Club of Peterborough and it passes through parks and ecosystems which are home to a variety of wildlife. Interpretive signs describe the ecology, flora, fauna and history of the area. This is Rex Fields on the London Street Bridge in Peterborough.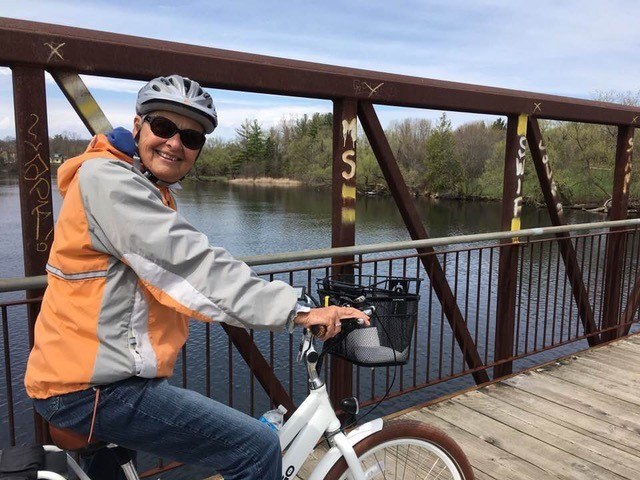 Lang Hastings Trail
This 30km section of the Great Trail (TransCanada) runs east from Peterborough to the Lang Pioneer Village, where it crosses Indian River, and continues along the Trent River to the town of Hastings. There are wonderful historic and bucolic scenes on either side of the trail, such as a grist mill, dairy cows, orchards and barns. Different days, or has Rex swapped his Pedego below?
Omemee Trail
The Omemee rail trail is a popular 35 km bike ride from Lindsay into Peterborough. It is crushed gravel and easy riding out of Lindsay towards the Omemee River.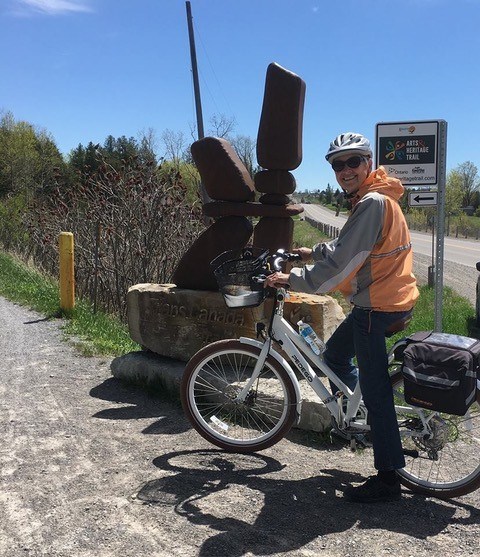 It crosses the 200m long Doube's trestle bridge, which allows you to ride easily across vegetation and streams of the Buttermilk Valley. Here is Karen on a sunny day crossing the trestle bridge.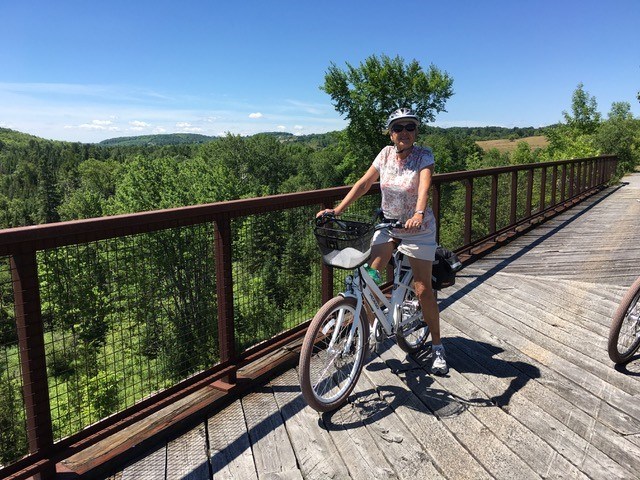 To connect with other Pedego riders in Kawartha Lakes, or visit the store's Facebook page.