10 of the best electric biking routes in Ontario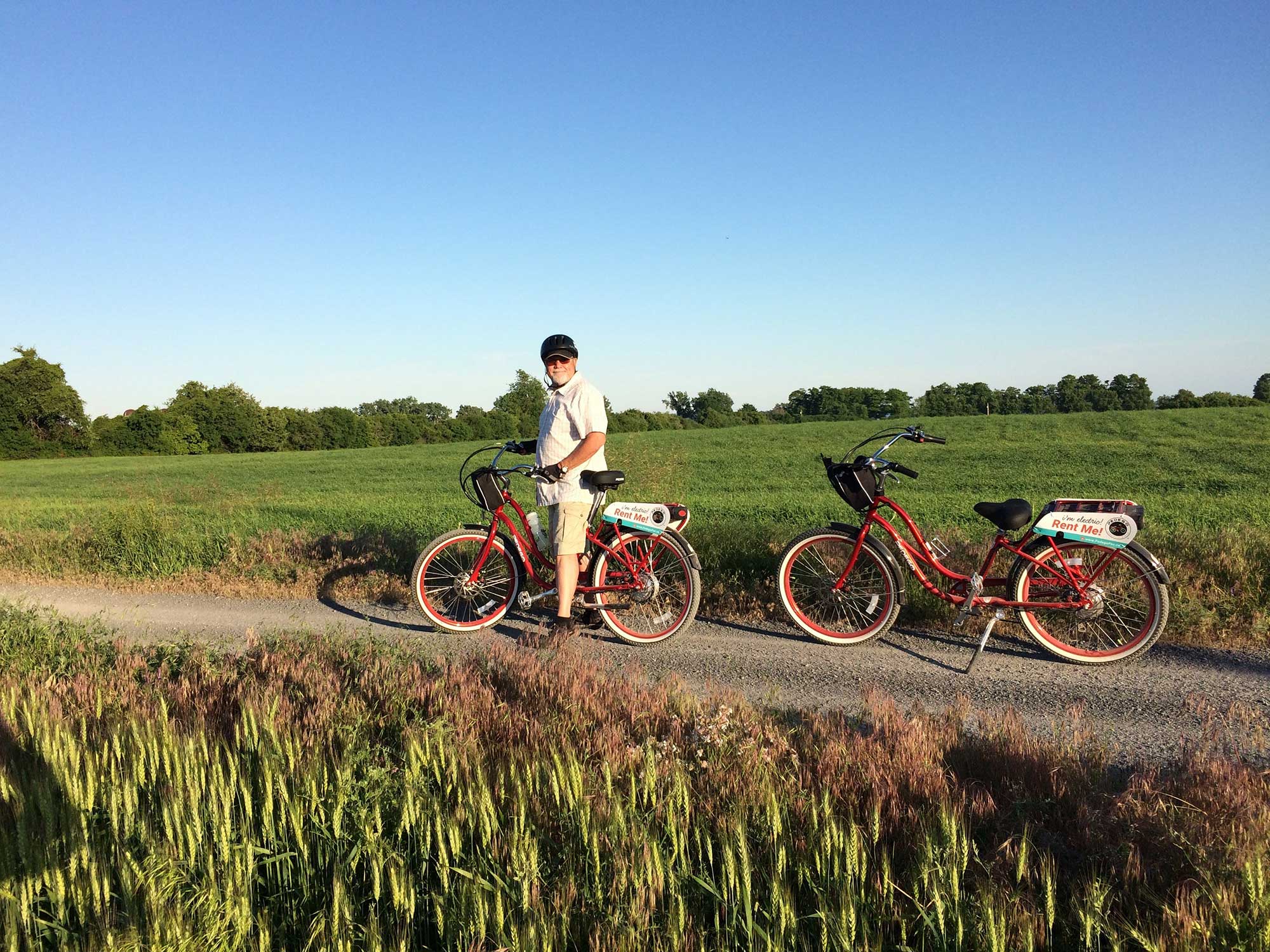 From farms to conservation land, wineries to waterfronts, Ontario is a fantastic destination for bike tourism. Whether you are taking weekend trips from Toronto, or spending the whole summer touring the lakes, you'll experience a huge variety of riding. Single track, double track, converted rail trails, gravel roads, multi-use paths and bike shoulders, there is a great variety in every itinerary.
Going by electric bicycle is a great way to see even more of Canada's second largest province. Just ask any Pedego owner if they ride more since buying an ebike! And, if you need more than 10 rides this summer, grab Ontario By Bikes's 2022 riding guide. If you need an electric bike, visit Pedego Grand Bend, Pedego Ottawa, Pedego Toronto, Pedego Prince Edward County: rent for a one-off adventure, or buy one forever.

WALTER BEAN TRAIL, WATERLOO
This 35km return trip starts at Schneider Park and runs along the old Grand Trunk Railway Line to Cambridge. Enjoy river views, historic mills and one of Ontario's prettiest downtowns filled with lovely stone architecture.
STURGEON LAKE, KAWARTHA LAKES
Make Kawartha Lakes your destination for some spectacular lakeside riding, following County Road 24 out of Bobcaygeon along Sturgeon Lake. There are a selection of secondary roads intersecting the Trent Severn Waterway and lock stations.
KEN REID CONSERVATION AREA, LINDSAY
A great ride for novice and intermediate riders is in the Ken Reid Conservation Area a 5km ride north of Lindsay along the Victoria Rail Trail. The 10km trail network is relatively flat with many rest areas and water features on the southern arm of Sturgeon Lake. Even better, the whisper quiet motor on a Pedego won't interrupt the birding. Visit Pedego Lindsay (The Bike Garage) for maps and bikes.
COUNTY ROADS 18 and 16, MORRISBURG
For riding on paved shoulders, the County Roads 18 and 16 provide a 40km lollipop route including the Great Lakes Waterfront Trail. The flat agricultural lands spanning the horizon call to mind The Netherlands, as does the joy of cycling on the road instead of driving a car.

PRESCOTT RUSSELL RECREATIONAL TRAIL, ST EUGENE
The 72km Prescott Russell Recreational Trail stretches from St-Eugène in the east to the village of Hammond in the west. For those looking for a recreational overnight trip, ride from Vankleek Hill to Plantagenet along the trail. Overnight in Plantagenet before pedalling the paved shoulders north and east along the Ottawa River back to Vankleek Hill for a 76km loop.

MILLENNIUM TRAIL, PRINCE EDWARD COUNTY
Acquired by The County from the Canadian National Railway in 1997, the Millennium Trail is a re-purposed abandoned rail line that was converted into a multi-use recreational feature for the enjoyment of County residents and visitors. The 46-kilometre multi-use trail stretches from Carrying Place at County Road 64 to Picton at County Road 49, passing near Consecon, Wellington, and Bloomfield. You'll find Pedego Prince Edward County smack bang in the middle of it, with a large rental fleet including an electric tandem bicycle.

TURKEY POINT, PORT RYERSE
Turkey Point has approximately 65 km of well-maintained and signed singletrack trails both within and adjacent to Turkey Point Provincial Park and St. Williams Conservation Reserve. Beginners have plenty of terrain to explore; and it is possible to rent electric bikes from Ontario's South Coast Bicycles nearby Port Ryerse.
WILDWOOD CONSERVATION AREA, ST MARYS
If you're really into natural surfaces, in Pedego-speak that means a Trail Tracker or Ridge Rider, the Wildwood Conservation Area has approximately 30 km of trails, including a 24km loop Lake Trail of mostly single track. It is directional meaning that on even-days it rides clockwise and on odd-days, counter-clockwise.

VICTORIA RAIL TRAIL, FENELON FALLS
The trail takes you from Lindsay north for 22 kilometres along Sturgeon Lake to Fenelon Falls.  During the summer months the bridge crossing this waterway is swung open to allow boater traffic through. Rent a bike from Pedego Lindsay and ride north to the falls and back.
GREAT WATERFRONT TRAIL
The first nine aren't enough? Tackle the Great Lakes Waterfront Trail—3,000 km of breathtaking waterfront on the Great Lakes and St. Lawrence River, running from Sault Ste. Marie to Sudbury!