Q&A with Electric Bike Adventurer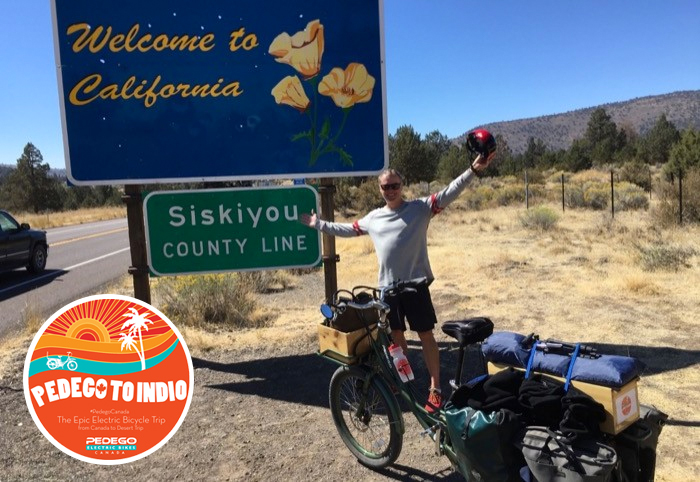 Electric bike adventurer Jon Langille has been on the road for the past 16 days and travelled over 1,500 kilometres from one province through three states past lakes, plains, mountains, cities, rivers, and canyons. He's ridden his Pedego Stretch electric cargo bike up the equivalent elevation of Mount Everest, into 60 km/hr headwinds and in temperatures ranging from 5°C to 35°C. And all of this to attend a rock concert in Indio, California.
For a background of Jon's trip, check out our "First Of It's Kind Roadtrip" blog and to follow along with his journey. We managed to catch up with Jon in Sacramento, California and had a chance to ask him some questions about his experiences so far:
Hey Jon, congrats for reaching Cali! What did you pack that's been invaluable?
I'd have to say tire pump, extra batteries for the ebike, sunscreen and sunglasses.
What did you pack that you wish you hadn't?
A rain jacket. It was good windbreaker for a few uses but ultimately just kept the moisture in! And the bulky fleece. Both items were necessary at times but ultimately too bulky. I've sent them home along with a pair of cycling shorts that were also too bulky and actually caused some numbing you know where. Also, my old cooking pots and pans – one silicon folding pot is enough. And the electric screwdriver – that was just dumb. It's also on it's way home.
How has social media impacted this ride for you (compared to your other excursions around Asia, UK, etc)?
When riding in the 1980s there was no such thing as social media. The benefits are clear as far as communicating with friends and family though. Knowing what's ahead and making plans on the fly is a polite thing to do for the people who are hosting me as well. Having said that, one can become a slave to their device, especially if you're trying to control cellular charges. Seems I'm forever going into my settings – I've come to hate that button! In the pre-device era you had your map and your watch and all day to see what's down the road. You dealt with finding food, shelter and social interaction in an entirely "of-the-moment" way, and frankly, it was much more real. But in those days my friends and family might not hear from me for months at a time.
Are you meeting a lot of people along the way who are curious about your trip?
Tons! Every time I stop I get questions about where I'm going, where I started, and, "Wow, cool bike!" People are increasingly more startled at the story as I get further south.
What's the most interesting conversation you've had?
Roadside conversations are usually brief and on the "trip" subject. The best stories I've heard are from my great hosts along the way such as the Pedego shop owners in Bend, Redding and Sacramento. They're real characters with remarkable life stories and a passion for a sustainable planet. They all walk the walk, or I suppose, pedal the talk, promoting a biking lifestyle and pulling more and more people into it with Pedego e-bikes. Lots of passion!
How's the Pedego Stretch been performing for you?
Really well. The only issues have been exactly what you would expect on any long ride, on any bike: tire punctures and broken spokes. As far as the motor and power, though, it's been flawless.
What's been your favourite stretch of road thus far?
Without a doubt from Klamath Falls, Oregon to Dunsmuir, California. Stunning landscape changes from high dry country, through marshland, vast farmland, a climb to 5,200 ft around the base of Mt. Shasta and then 50 miles of downhill through a series of groovy little burgs off the highway south of Weed. Perhaps the funnest part of the day was riding 10 miles of newly paved lanes on the I-5 that were closed to all other traffic. The barriers weren't keeping me out though!
How have the media interviews been going? Are you surprised by the high interest?
It has been curious to me. Something seems to spark interest about this journey. Perhaps it's because this isn't a typical bicycle touring route:  there's nothing unusual about a ride down the coast, but this is the upside of the Pedego Stretch, It's opened up more of the map for touring. I suppose the fact that this trip has been tied to a significant destination/event has made it interesting too. It makes me appear to be some kind of "Super Fan," which I'm not really. For me the concert was just a good excuse to do what I've thought about for the past year: going on a a good long ride on my bike. To follow Jon's journey and see day-to-day updates, log on to: pedegoelectricbikes.ca/roadtrip