Trainee bike mechanic loves riding electric bikes
May 24, 2019
Remington Pringle recently joined Pedego Prince Edward County to train as a bike mechanic under the expert teachings of Patrick "Bear" Maloney. Rem enjoys cycling and for the first time he has an electric bike to ride to and from work, and use as his primary mode of transport. Meanwhile he is learning to build and repair customer bikes. We took five minutes with the trainee mechanic to find out what it is like to work at a Pedego Electric Bike store.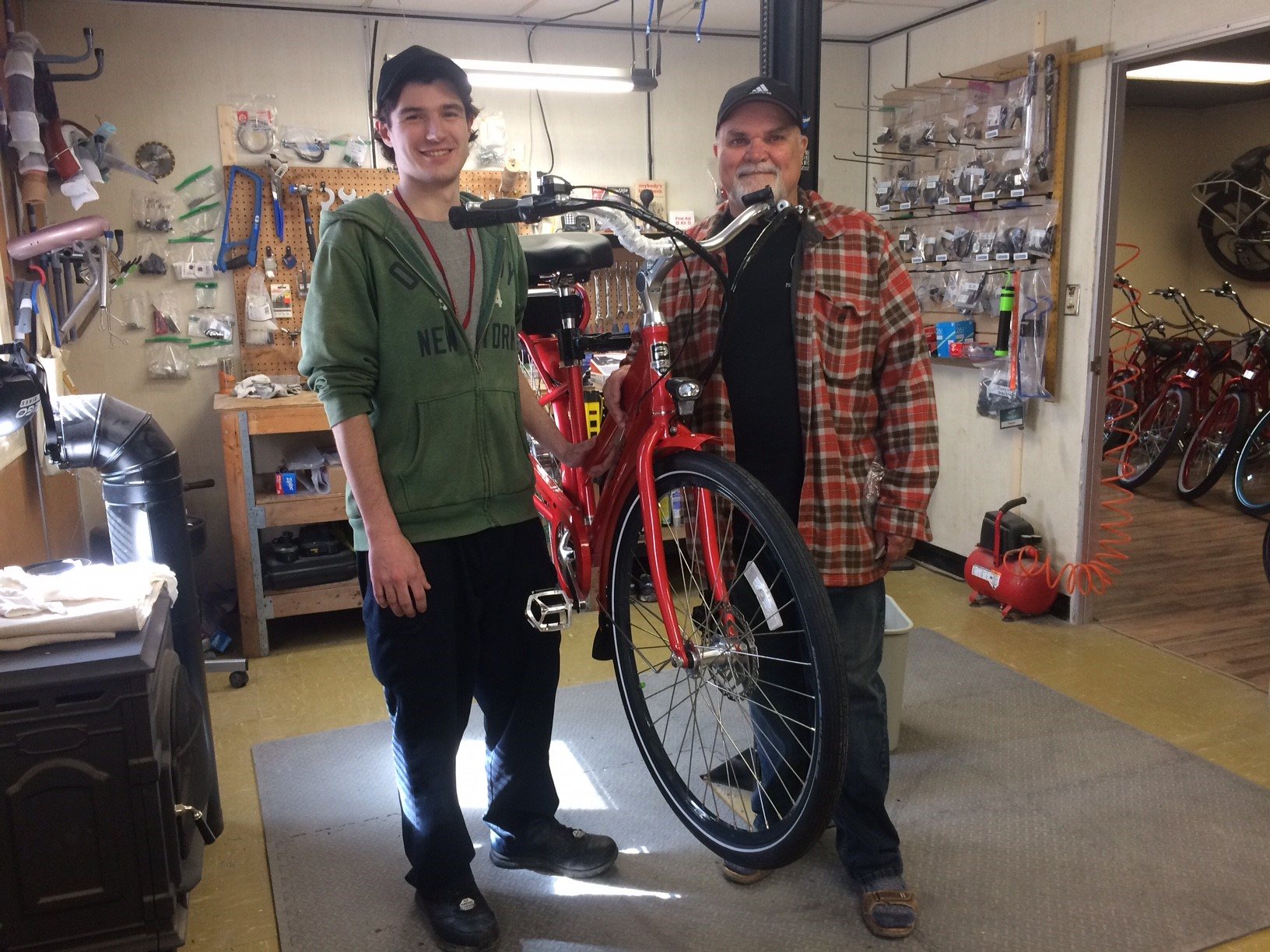 Where do you live?
Picton, Ontario. Born and raised there. I'm 25 years old.
How did you find out about Pedego Prince Edward County?
I saw a job posting on Facebook and thought: it's not my line of work, but I'll see how it goes. I had seen electric bikes around, but I didn't have much knowledge of them.
Do you have a special interest in bikes?
When I was younger, it was hard to get me off a bike. My favourite was a Shimano 7 speed bike that I could pedal up to top speed really quickly and it had great suspension. It was bright white, and every time it got ridden, I'd bring it back and it would be mud-coloured. We have some fun trails around Picton.
When was the first time you rode an electric bicycle? What did it feel like?
It was my first day at Pedego Prince Edward County. I started on a Comfort Cruiser, and graduated to an Interceptor with pedal assist. I love the pedal assist, it's as much as you want it to be, or as a little. It makes me feel really free, I can go everywhere and travel around.
How much are you learning about bikes from Bear?
There's a lot of things I could say. He had me taking off the back wheel the other day, next thing I am disassembling a BB7 brake and putting it back together. Learning about batteries, running through the cables… it's more like: what am I not learning about a bike at this stage?
Where is your favourite place to ride a bike?
Definitely the Millennium Trail. I ride from Picton to Bloomfield everyday for work. You have got so many views, and the Interceptor handles the gravel surface really well. The only thing it doesn't handle so well is a lot of sand, that's more suited to a fat tire electric bike like the Trail Tracker.
What is the Career Edge program and how does it help you?
I first used it in a restaurant, that's how I knew about it, it is an Ontario government program that helps get people training spots, help with jobs and pay for training.
What's your favourite Pedego so far, and why?
Currently it's the brushed aluminum classic Interceptor. I ride it everywhere. If my battery is dead, I'm not leaving the house.