9 BEST CITIES TO ELECTRIC BIKE IN CANADA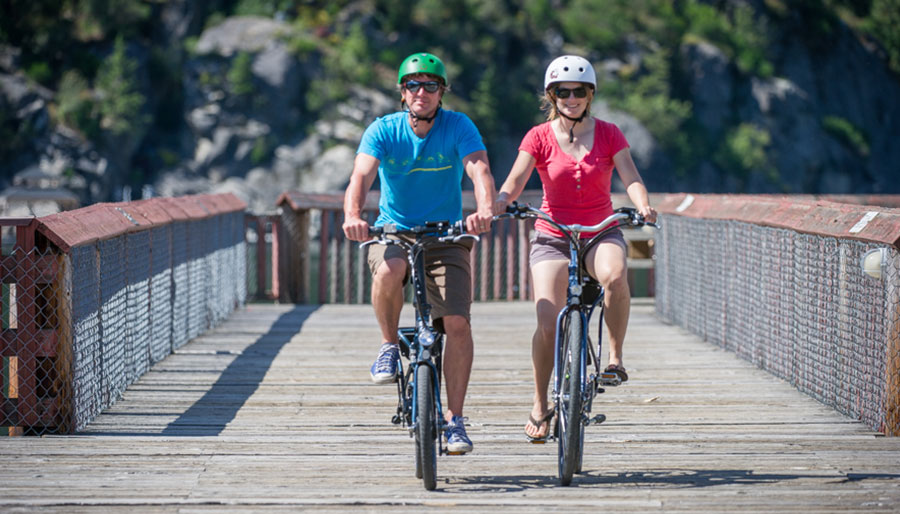 Many people are familiar with "Walk Score," the rating used by real estate listings and other agencies that show how "walkable" addresses are based on their nearby destinations, amenities and transit — but did you know a "Bike Score" has also been created for cities across North America? A study published in the International Journal of Behavioral Nutrition and Physical Activity listed 24 cities around the continent and rated their score based on various characteristics associated with cycling such as terrain, dedicated bike paths and infrastructure, amenities and road connectivity.
Professor Meghan Winters of Simon Fraser University and Professors Michael Brauer & Kay Teschke at the University of British Columbia provided advice for the "Bike Score Methodology" which now includes a rating system:
| Bike Score | Description |
| --- | --- |
| 90-100 | Biker's Paradise – daily errands are accomplished easily on a bike |
| 70-89 | Very Bikeable – Biking is convenient for most trips |
| 50-69 | Bikeable – Some bike infrastructure |
| 0-49 | Somewhat Bikeable – Minimal bike infrastructure |
What's interesting with the Bike Score is that hills have a significant impact on the rating, and yet when you ride an electric bike in any of these cities, hills are not a problem at all because with pedal-assist you're able to easily cruise up even the steepest incline. So in the case of hilly cities like Moncton, New Brunswick and St. John's, Newfoundland, their sub-50 rating would be a lot higher if you were on an electric bike – image easily biking up the iconic scenic attractions of Magnetic Hill in Moncton or Signal Hill overlooking the St. John's harbour without having to break a sweat!
In this post we share the nine best cities to electric bike in Canada and their rankings based on the Bike Score methodology. We also list a few honourable mentions at the end. To find electric bicycle dealers in all these cities, visit our Pedego Dealer page.
9 Best Cities to Electric Bike in Canada
MONTREAL, QUEBEC (78.8)
The island of Montreal is a slice of European culture and, as such, bicycling is prevalent here. This was the first city in Canada to implement a successful bike share system and it has also installed over 500 kilometres of bike routes. Not surprisingly, Montreal has a robust bicycle culture that is not only evidenced by the numbers of riders in the bike lanes everyday but also the different kinds of cyclists: well-dressed men and women ride commuter bikes with baguettes poking out of their baskets alongside spandex-clad racers and hipsters on their colourful bikes.
Suggested ride: Take your electric bike along the Lachine Canal to the Old Port and enjoy plenty of green space along the water.
Suggested retailer: Pedego Canada.
SASKATOON, SASKATCHEWAN (78.7)
With its flat topography, it's no surprise Saskatoon is a favourite among cyclists. In fact, it has the second highest number of bicycle commuters in the country. Of course, prairie winds can sometimes be an issue but not when you're riding an electric bike – when the wind blows, just turn turn up the pedal-assist mode and your legs will barely even notice it's blowing! Saskatoon is so bike friendly, it's even created a bike boulevard (along with all the other bike trails and pathways) and a cycling guide that rates every road in the city in terms of difficulty.
Suggested ride: Enjoy views of the South Saskatchewan River as you steer your electric bike along Spadina Crescent.
Suggested retailer: Pedego Canada.
VANCOUVER, BRITISH COLUMBIA (78.0)
Canada's largest West Coast city is the first in the country to take the concept of "Neighbourhood Greenways" to the next level. Automobiles and large vehicles are forced to take circuitous routes through various neighbourhoods, such as the Grandview-Woodland and Kitsilano areas, leaving the streets relatively empty for bicyclists. There's also a very strong bike culture here and given the mild winter temperatures, people can bike here year round.
Suggested ride: The seawall around Stanley Park offers 22-kilometres of paved riding, fresh air and beautiful views of the ocean.
Suggested retailers: Pedego Vancouver
CALGARY, ALBERTA (74.4)
Calgary ranks high on the Bike Score thanks to its 550 kilometres of multi-use pathways and 260 kilometres of on-street bicycle routes. In recent years the city councillors have voted in favour of installing infrastructure and promoting the benefits of riding bikes as a lifestyle. Citizens here aren't as ingrained in bike culture as say Vancouver or Montreal, but that doesn't stop many from commuting to work everyday when the weather suits.
Suggested ride: The green space and well-maintained trails along the Bow River, which bisects the city, is fantastic for electric bikers.
Suggested retailer: Pedego Calgary
VICTORIA, BRITISH COLUMBIA (74.3)
In recent years Victoria developed its "Cycling Master Plan" and, with the help of the city's strong Cycling Coalition, is now ranked one of the highest among Canadian cities for bikeability. There are over 50 kilometres of marked bike lanes in the city and more are being added every year. The lifestyle is catching on thanks to these initiatives, the mild weather and the fact electric bicycles help aging residents get out and have fun!
Suggested ride: The Galloping Goose Regional Trail is a 55-kilometre rail trail that takes you through the colourful neighbourhoods of Victoria along the ocean and through green space to the community of Sooke.
Suggested retailer: Pedego Victoria.
TORONTO, ONTARIO (66.9)
Canada's largest city boasts plenty of neighbourhoods in which it's fun to ride an electric bike. For example, there's Koreatown, the Annex, Little Portugal, and the Studio District just to name a few. Granted, there are some areas of the city, such as right downtown, that get busy with traffic so you'll want to avoid those, but there's plenty of infrastructure and amenities for cyclists outside the main core. There's also a strong cycling culture here as evidenced by the plethora of bike couriers, commuters and other aficionados of two-wheel travel.
Suggested ride: The Beaches area of Toronto, just east of downtown, boasts quaint stores, excellent restaurants, asphalt bike paths and, of course, beaches.
Suggested retailer: Pedego Kawartha Lakes, Pedego Prince Edward County.
HALIFAX, NOVA SCOTIA (67.4)
Halifax has great bikeability in its downtown area, most especially around the Jubilee and Halifax Common where you'll enjoy excellent shopping, outdoor restaurants and the aroma of sea air. Bicycle culture is still in its infancy here, though, so you're not going to find as much infrastructure as cities further west. That said, riding along the Atlantic seashore is something everyone should experience and Halifax is also one of the main launching points for the Cabot Trail, one of the most famous bicycling loops in North America.
Suggested ride: As mentioned above, anywhere in the downtown core area is exciting to ride on an electric bike, especially around the harbour.
Suggested retailer: Pedego Canada.
MONCTON, NEW BRUNSWICK (49.3)
As we said in the introduction to this story, Moncton ranks lower on the Bike Score because of its hilly terrain but that doesn't matter when you're on an electric bicycle! With pedal-assist, hills are easy to navigate. Therefore, consider that Moncton would definitely rank above 50 for bikeability on an electric bicycle. The city's proximity to the world-famous Bay of Fundy means you'll enjoy fresh seaside air during your ride and Riverfront Park is beautiful green space.
Suggested ride: Magnetic Hill in Moncton is a favourite destination for tourists for its views. Normally it's a challenging ride to the top but on an electric bicycle it's easy!
Suggested retailer: Pedego Canada.
ST. JOHN'S, NEWFOUNDLAND (44.8)
Like Moncton, this city ranks lower on the Bike Score because of its hilly terrain. But again, hills are easy when you're on an electric bicycle! In recent years city councillors have attempted to create a cycling plan that works for everyone along with dedicated infrastructure. The weather here makes year-round bicycling almost impossible but when the sun shines, there's no better way to enjoy Quidi Vidi harbour, the colourful houses of "Jelly Bean Row" and the beautiful battery area than on an electric bike.
Suggested ride: Signal Hill boasts incredible views of the city and Atlantic Ocean and is normally a challenging bicycle ride to the top. But on an electric bike it's no problem at all!
Suggested retailer: Pedego Canada.
HONOURABLE MENTIONS
Although not listed by Bike Score, there are a few cities we feel deserve honourable mentions:
Winnipeg, Manitoba: The Winnipeg Trails Association does an excellent job promoting cycling in the city and overseas maintenance on no less than 36 pathways. Suggested retailer: Bikes and Beyond.
Ottawa, Ontario: Cycling along the Rideau Canal and past the iconic Parliament buildings is something every Canadian should do once. Suggested retailer: Scooteretti.
Courtenay, BC: This is the smallest city on our list but also one of the most rideable, especially when you take into account the incredible trail networks in nearby Comox and Cumberland. Suggested retailers: Pedego Qualicum Beach.
Have we missed a city that you think should be listed? If so, leave a comment below and tell us why your Canadian city is one of the best to electric bike in.